Erotica - The Show
Erotica is the largest adult lifestyle exhibition in Europe. Now an established annual event at The Grand Hall, Olympia, London, this is a three day entertainment and shopping experience for free-thinking adults who are comfortable with their sexuality.

Erotica - The Showguide
75,000 copies of the Erotica Showguide will be printed and distributed to trade visitors and to the public as they enter the Show. A 72pp magazine, produced using top class photography by the likes of Bob Carlos Clarke and John Dietrich, and packed with great articles, and a comprehensive selection of the best products at the show, The Erotica Showguide is an invaluable reference source and is fast becoming a collectors magazine.
MUSE Fine Art & Design produced previous years' Showguides. To view examples in entirety please download the .pdf below:
Last November Erotica attracted nearly 100,000 visitors. Advance ticket sales, for the next Erotica Show, indicate an even greater number of visitors this year.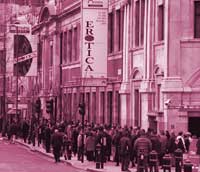 The only event in the UK to hold a sex shop licence, its key to success is that, unlike the sex industry in general, it is targetted at the mind - not the body. As a result, Erotica is unique in attracting as many women as men, which makes it truly accessible to couples and singles.