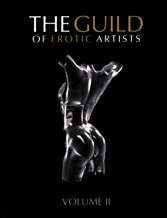 For purchases by by mail order to
107 CASTLEHILL ROAD, AYR KA7 2LE SCOTLAND
please make cheques payable to 'MUSE Fine Art & Design'
For orders OUTSIDE THE UK please email BEFORE ordering (shipping to USA is £15 GBP)

For orders within UK Please send a cheque for
£20.00GBP +£5.40 P&P
Or use the Paypal secure server:
The Guild of Erotic Artists Volume TWO
EROTIC ART BOOK LIMITED NUMBER AVAILABLE!!
Fine Art, Photography, Sculpture and Mixed Media.
The Guild of Erotic Artists SECOND book is an eclectic mix of photography, drawing, painting, digital art and sculpture from 32 current members of the 200-strong Guild. A perfect introduction for those who just want to dip their toes in the erotic genre or discuss at length with their partners what they would and would not be prepared to hang on the dining room wall, and a follow-up for fans of the Guilds artists and their progress. A few key established artists from the first volume return, but most contributors are new artists ¨ many in print for the first time. Each featured artist has six pages to display the best of their current work. Text, written by the artists themselves, gives an insight into the creative thought process. All, it seems, are driven by a common obsession to portray sensuality through their chosen medium. Art students may feel less isolated in their thinking after reading the tales of these tortured souls.
Brand New book - published November 2008
The Guild of Erotic Artists - 1st Edition.
Featuringű32 Artists and examples of their work,
as well as a brief biography by each Artist.
Signed by 1 of the Artists - (Ray Leaning) LIMITED NUMBER AVAILABLE!!
Featured Artists are:
Jackie Adshead, Robert Babylon, Paul John Ballard, Michael J Berkowitz, Peter Bratt, Mike Crawley, Ben Davies (Xanadu Images), Dave Ayerst Davies & ERosanne, Andy Dendy, Frances Duncan, FINE ARTS Wohnkultur GmbH, Chris Francis, Gray, Andy Howard, David Hare, Lee Jones, Kitty, Ray Leaning, Jamie McCartney, Lindsay McDermid, Karen Middleton, Nora Ness, Leigh Perkins (Mighty Aphrodite), Norman Pike, Eve Poland, PWPimages, Ra, Richard J Savage, Steve DT, John Tisbury, Richard Trebilco, Roger Woods.

Beautiful, sensual, evocative art for grown ups. For fans of pin-up, fetish, goth, fantasy, sexuality, sensuality and beauty. A fabulous collection of over 450 drawings, paintings, prints, sculpture, body casting and glamour photography.