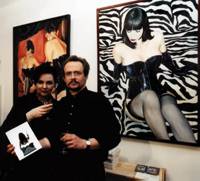 Ray with Jan Birks of Forum magazine
at the opening of The Bloxham Galleries
Sensual Inspirations
Ray 's formative years were filled with images from Emma Peel & David Bowie to Wonder Woman & Pop Art. Becoming an artist was never in question, he could draw a bit, and knew what a paintbrush was. What was yet to become clear was his driving obsession. He rode a motorcycle, a Triumph Bonneville - nothing particularly unusual in that - but it immersed him in a world of tightly leather-clad ladies, Debbie Harry, Chrissie Hynde, emerging Punk Rock and the Saturday night sexuality of the Steve Bird Roadshow.

Carol - Ray's main model & inspiration
Fashion
Life-classes at college diffused a healthy sexuality. The constant scrutiny of the naked body cultured a real appreciation of beauty but diverted the lust. Then came a fascination for female fashion - the sensuality and gender messages evoked by what women wear. Spike heels give a distinctly female gait, corsetry accentuates the female form, tight shiny clothing gives the wearer a 'super-skin'.

Clothes that focus attention on the differences between man and woman 'target' specifically feminine features:breasts, buttocks, slender neck and shoulders, long legs, even down to subtleties of foot size and finger shape. The subconscious messages; signs on mimicry - red lipstick echoing the flush of sexual arousal and symbolising similar arousal of the labia; the smell of fresh leather or the wearing of musk-based perfume- both reminiscent of the smell of a woman.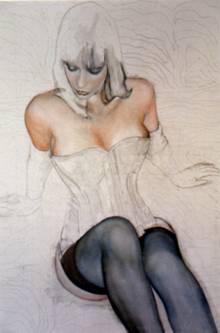 'Jessica'
Fetish
The fetish scene shows how subtle messages can be taken to extremes, Super-sex! Attitudes of sexual aggression, dominance, passive reception, slavish attention, submission, all displayed by clothing, jewellery, piercings, posture and ritual. What powerful images and imagery! Shocking to the masses. Raw blatant sexuality often provokes fear or ridicule just because it does ignite such strong emotions.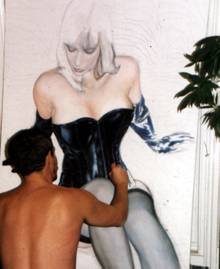 The size of a canvas and scale of an image can also have a dramatic impact. Ray often works larger than life, for a shockingly sexual swipe at the senses.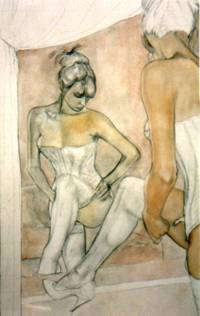 Reflections
Each piece takes between two and six months to complete from initial concept through sketches, photography and preparatory work to finished canvas.
New Work

and more 'Work In Progress'